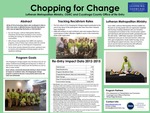 Title
Abstract
Of the 27.5% of returning citizens who recidivated in Ohio in 2015, how many re-offended because they felt they had no other way of supporting themselves or their families?
For over 40 years, Lutheran Metropolitan Ministry (Cleveland, OH) has been providing re-entry services, including job training, for individuals returning from incarceration.
90% of those who graduate from LMM's job readiness programs, many of whom have a history with the criminal justice system, go on to find long-term employment.
Yet for those recently released from prison, waiting to earn an income until completing a training program can be a significant challenge.
Publication Date
10-7-2016
Disciplines
Prison Education and Reentry
Recommended Citation
Lindsay, Andrea, "Chopping for Change" (2016). Learning Showcase 2016: A Celebration of Discovery, Transformation and Success. 39.
https://fuse.franklin.edu/ss2016/39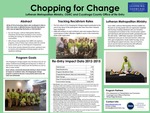 Included in
COinS