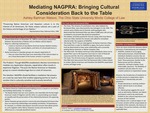 Abstract
Native American Grave Protection and Repatriation Act (NAGPRA)
Became federal law on November 16, 1990 to correct gross inequalities between the protection of Native and non-Native cultural objects.
Requires collecting institutions to: create an inventory of any Native American human skeletal remains, funerary objects, sacred objects, and items of cultural patrimony in their possession.
Native American or Hawaiian groups can request repatriation if: they can show that they have true ownership of the cultural object or are a lineal descendant of the human remains in question.
Publication Date
10-7-2016
Disciplines
Indigenous Studies | Museum Studies
Recommended Citation
Watson, Ashley Bartman, "Mediating NAGPRA: Bringing Cultural Consideration Back to the Table" (2016). Learning Showcase 2016: A Celebration of Discovery, Transformation and Success. 42.
https://fuse.franklin.edu/ss2016/42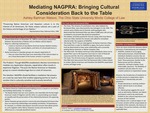 Included in
COinS