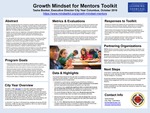 Abstract
Deeper understanding about the importance of growth mindset to help students succeed prompted City Year, an education nonprofit fueled by national service that works in high-need schools in 28 cities, including Columbus, to partner with Stanford University's Project for Education Research that Scales (PERTS) and MENTOR: The National Mentoring Partnership.
Together, as part of the U.S. Department of Education's Mentoring Mindsets Initiative, this nonprofit-higher education partnership developed a new research-based resource for mentors nationwide, the Growth Mindset for Mentors Toolkit.
City Year piloted this online resource in partner schools in Columbus and Miami in early 2016; control sites were in Chicago and Little Rock. The toolkit was designed to help mentors encourage growth mindsets in students.
Research by psychologist Carol Dweck demonstrates that having a growth mindset helps students retain confidence, perseverance and resilience and cultivate positive decisions, in addition to performing better in school.
PERTS is conducting a randomized control trial based on survey data gathered from City Year's full-time AmeriCorps members in both the treatment and control sites to better understand the impact of this toolkit on mentors and their ability to cultivate a growth mindset in the students they serve.
Publication Date
10-7-2016
Disciplines
Educational Assessment, Evaluation, and Research
Recommended Citation
Booker, Tasha, "Growth Mindset for Mentors Toolkit" (2016). Learning Showcase 2016: A Celebration of Discovery, Transformation and Success. 46.
https://fuse.franklin.edu/ss2016/46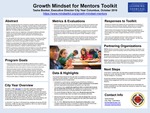 COinS