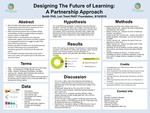 Abstract
Most of today's educational system teaches students standardized content that fails to represent the real world in which they live and will work.
Often Educational practices lack a problem-solving methodology, and fail to engage students enough to choose a career in STEM fields.
Subject matter is standardized across disparate communities, regions, and cultures and often students are disengaged and teachers struggle to make STEM come alive in the classroom.
However, the PAST Foundation has revolutionized how we teach STEM today and are providing their innovative approach to schools across the state and nation.
The new PAST Innovation Lab model can be used in every rural, urban, and suburban part of the state and across the nation.
Publication Date
10-7-2016
Disciplines
Science and Mathematics Education
Recommended Citation
Trent, Lori, "Designing the Future of Learning: A Partnership Approach" (2016). Learning Showcase 2016: A Celebration of Discovery, Transformation and Success. 49.
https://fuse.franklin.edu/ss2016/49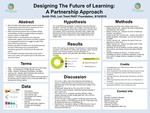 Included in
COinS